Shooting wraps for HBO's Uspjeh (Success) filmed in Zagreb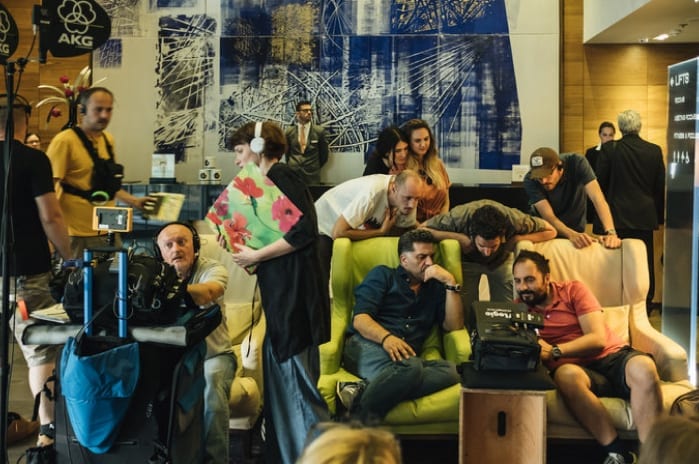 Uspjeh/HBO
Crew members
221 + 486 extras
Locations
Shooting wraps for HBO's Uspjeh (Success) filmed in Zagreb
Shooting has wrapped for Uspjeh, the first original HBO production in our region. Last week, representatives of the Croatian Audiovisual Centre and media from Croatia, Serbia and Macedonia, visited the crew on set at one of Zagreb's hotels.
Guests were welcomed by producer Ana Balentović (HBO Adria). 'I am incredibly proud of this project, of Marjan Alčevski's story, which we have worked on for a full 18 months and are now shooting the final scenes. The most important part of the job is done, with postproduction following. The series is aimed at viewers in the region, but the story is universal and will be avalable on the HBO platform to audiences around the world', said Balentović.
Producer Nebojša Taraba (Drugi Plan) led journalists to the 9th floor which was seized by film equipment. They were just preparing to shoot a scene with Iva Mihalić, Tara Thaller and Uliks Fehmiu.
We kept out of the way because the crew, under the guidance of Oscar award-winning director Danis Tanović, were facing an all-nighter. Still, along with our colleagues, we had a chance to experience the story from the other side of the camera.
Director of the Croatian Audiovisual Centre Daniel Rafaelić took the opportunity to say hello to the whole team and express his great pleasure that such a significant project is being filmed here. Uspjeh applied to the Croatian Audiovisual Centre's incentives programme for audiovisual production.
HAVC's cash rebate program has not only encouraged foreign productions to film in Croatia but has given the opportunity to increase the number of Croatian film professionals working on the most demanding global projects.

Marjan Alčevski, screenwriter
The series has 6 parts and has been shooting from the beginning of March until the end of May. Marjan Alčevski's screenplay was selected from 570 applications in HBO Adria's 'First Draft' competition. The director is Danis Tanović, while lead roles are played by Marija Skaričić, Uliks Fehmiu, Iva Mihalić, Toni Gojanović and Tara Thaller. The executive producers are Steve Matthews and Jonathan Young (HBO Europe), producers are Ana Balentović (HBO Adria), Nebojša Taraba and Miodrag Sila (Drugi Plan), while the production supervisor is Emma Turner (HBO Europe).
Crew members
221 + 486 extras
Locations